As you spend time in your kitchen the floor will gradually see foot traffic. With foot traffic comes dirt, dust, and grime.
It cannot be helped. So you might be wondering how to clean a kitchen floor? You got options but we will focus on the simplest by breaking down the process.
For starters you got to know the type of floor you have in the kitchen. Next decide what type of sweeping is best for the occasion . Then decide the same for mopping up. Cleaning grout and how often if necessary will be dependent on the material. Lastly, develop a schedule for cleaning to make everything easier!
Vacuum cleaners do help with the task though be mindful of the force of abrasion. Some vacuums that are all-in-one units, which combine a motor, dust collector and cleaning head, are too rough for some floors and grouting.
Ph cleaners are exceptional for handling a grimy kitchen floor or a spilled mess on sealed floors! Application with a mop or a permanent sweeper works best. Most can breakdown dirt and grime easily without being too acidic damaging finished and unfinished or unsealed natural flooring. Whether it be hardwood, some kind of natural stone, ceramic, or porcelain.
---
Know Your Floor.
For cleaning purposes.
---
It is important to know the type of floor when considering cleaning it. The reason why is so you can conduct proper maintenance. You don't want to damage your floor, using the wrong chemicals or too much abrasion.
I have glazed smooth ceramic tiles with sanded sealed grout. Ceramic tiles are great for aesthetic purposes only. Porcelain has better durability because it's got that dense hardness that ceramic simply does not have.
Ceramic tiles have a high water absorption rate and are softer than porcelain. Using a cleaning agent acidic like vinegar can damage unsealed stone and ceramic. They also can wear away whatever material was used for a finish. stone-repairs has 3 solid methods for cleaning natural stone floors.
I use a canister vacuum to pick up dirt and dust on my stone tiles. I use Rejuvenate floor cleaner to mop up. Both work wonders on my floor, they make cleaning so much easier and bring back the original look of the floor. They do it without damaging my ever so delicate kitchen floor.
Determine the best way to maintain your floor even for spot cleaning. It is worth it, knowledge is power.
---
Sweeping Up or Dry Wiping.
Brooms and Vacuums.
---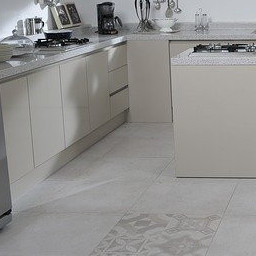 Whether it is done with a broom or vacuum you are going to need something for getting rid of dirt, without wetting it unless you are using a wet vacuum. Generally though these cleaning tools perform better in some circumstances than others.
For small and light jobs – Dry sweepers are the go option, no need for a dust pan. The only drawback is they need to be changed frequently for best performance, also to reduce spread dirt and microbes. Regardless if it is permanent pads or disposable ones.
For cleaning small areas with light debris – Brooms and dustpans will always remain a stable for kitchen floors. Sometimes it's just quicker to spot clean with a broom and dustpan instead of bringing out a vacuum. Clean the broom head and dustpan every week or every month.
For everyday cleaning or heavy duty cleaning – Vacuum cleaners make cleaning effortless, though some vacuums are a bit cumbersome. Shop vacuums make short work of dust and dirt on sealed hard flooring.
---
Mopping Up or Wet Wiping.
Sweeper pads and mops.
---
You don't have to mop every day after vacuuming or sweeping. Though it certainly has to get done eventually. Just like with brooms and vacuums, the tools for mopping will work best in some situations than others.
For cleaning conveniently – No need for a mop bucket. Disposable sweeper pads are filled with just the correct amount of water and detergent needed for cleaning. Permanent sweeper pads need to be pre wet or can be used directly with some cleaning chemicals, follow those label guidelines. After each use put any permanent sweeper pads in a laundry machine and wash them.
For day to day cleaning – The good old mop and bucket will remain as one of the best options for floor restoration and preservation. The mop head should be dried after each use. The mop head should be washed each week minimum to prevent spreading dirt and microbes everywhere.
For heavy duty cleaning – A steam cleaner is reserved for heavy duty tasks or large areas. Smaller areas will rarely need a drubbing from a steam cleaner. Some floors are not capable of withstanding the abrasion from some steam cleaners.
---
Cleaning Grout.
Dealing with pesky grout.
---
There are dedicated grout cleaning tools and cleaners that help automate the process. The dilemma is the same as vacuums sometimes going manual is better.
Some grouting can't take the abrasion or wear from acidic chemicals. Let that grouting catch them hands using a grout cleaning tool for hand use. Despite the grout on my flooring being sealed the durability is still lacking. It could just be the product used. I have no idea what specific brand was used.
My upright vacuum cleaner chipped away at some weak spots. My canister vacuum cleaner can clean without ripping out the grout. Of course the ye old broom and dustpan does not disappoint in terms of performance. You just need a broom with good bristles that won't fall out after a month and are easy to clean.
---
Setting a Schedule.
Being consistent with cleaning.
---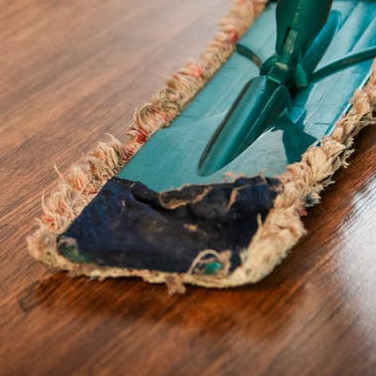 Set a schedule for floor cleaning and stick with it. I find it easiest to center your schedule around your lifestyle. Do not center your lifestyle around cleaning, it'll stress you out.
Normally for floors you should clean:
Frequently if there is constant foot traffic
Moderately if there is some foot traffic throughout the day
Occasionally if there is rarely some foot traffic in the area
Being consistent with a schedule, it can save money from having to call in professional cleaners or remodelers. It can be costly to get your floor cleaned and restored or completely remodeled. It could be worthwhile to do the cleaning yourself.
Some cleaners are meant for everyday use, some can be mixed with following recommended measurements and be used accordingly to everyday use, normal use, heavy duty use.
Aside from that you can prevent the growth of bacteria as long as best practices are used. You can't prevent bacterial growth if your cleaning tools are spreading them. Clean the cleaning tools as well! Follow their use and care guide.
It keeps your floor hygienic and looking as best as possible. I vacuum my floors everyday. I mop every three days. It keeps my floor clean and tidy. Do what works best for you.
Of course Home Depot has it covered on the video on how to clean hardwood floors if you have that as kitchen flooring:
Did you find this helpful? If you found this helpful, leave a comment on how it helped or share please. If you have any relevant comments or questions feel free to drop them below.