Looking for the best air fryer oven you can get. Well look no further. We certainly know our stuff when it comes to air fryers.
We have no intention of recommending a hunk of metal that is not really worth the price tag. We aim to recommend something that serves it's value each time it's used.
It was a hard choice because price and features are factors considered here on Kitchen Cookware and Appliances. However overall we chose the Digital Countertop Oven With Air Fry from KitchenAid. Allow us to explain.
---
The Digital Countertop Oven With Air Fry.
It's in it's own league of air fryers.
---
The design is intended to provide an endless amount of healthy and fresh possibilities. Though buyers have noted that this appliance is ideal for small kitchens who have to make the most of their space. Declutter your countertop by adding an all in one appliance. This countertop oven is about as big as a large microwave oven.
The features offer all kinds of possibilities for a single family cooking at home. It fulfills given tasks reliably. This is a great consideration for a kitchen, unless your objective is to replace your standard oven.
The current price is less than competing air fryers that offer similar capabilities. It cost more than an air fryer that just air fries. However it's easier to use and less niche. Cleaning isn't much more different than cleaning an oven without chemicals (if interested check out our post for more on this). However the owner's manual makes it clear exactly how you should be cleaning this oven. No soap just warm water and a soft cloth or sponge after every use.
---
The Difference Between This and Other Brands.
What makes this air fryer stand out.
---

(This image is an affiliate link be sure to visit our affiliate disclaimer page for more information)
Parts and features included:
1 air fry basket
1 9×13-inch baking pan with grill rack
1 Removable metal drip and crumb tray
1 Removable metal rack
As opposed to having four different appliances: an air fryer, a toaster, a small oven and a dehydrator. Save some space and add some convenience to your kitchen with an all in one countertop appliance.
For an all in one countertop appliance, it is easy to use. Just read the owners manual, it helps explain proper use and care for the appliance. It is easy to understand and does not take long to learn.
Offers quicker pre-heating than most standard ovens. The top and bottom heating element combined with a conventional fan provide consistent heating while cooking. While the heating elements heat up the oven, the fan disperses the heat evenly.
---
Order Online no Need for Going in Store.
It's easier and quicker to order online.
---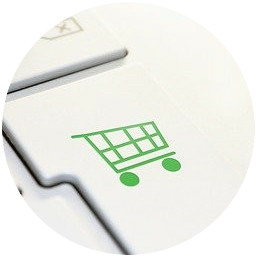 Ordering online is being prioritized by companies. Ordering online was becoming more prevalent with companies before 2020. After all that happened it's importance for distribution has been recognized.
Ship directly to your home hassle free. Avoid the lines and forget about hauling it back from the store. Shipping tends to be reasonable and rarely do items get battered and bruised like a 7 Eleven Banana.
Expect extended delivery time. It is not exclusive to just shipping, manufacturing has been affected which can contribute to an extended delivery time. At times the handling in shipping and handling can lead to delays as well (when the product is handed from the seller to the courier of choice for delivery to the customer).
---
Get it While Supply Lasts.
Product and offer won't last forever.
---
Product can become discontinued after becoming sold out. It happens, sometimes a company makes a highly desirable model but never restocks again. This doesn't just happen to kitchen products, it can happen to all kinds of products. RIP that one Bissell canister vacuum I had all those years ago, the ability to have the additional vacuum head attachments stored on the vacuum stick was so efficient.
Whether you plan on getting it as a gift for somebody or planning to do some air frying yourself. This countertop oven is a solid choice.
It does more than just air fry food. Yep that's right it can do so much more. It's why it outshines so many other conventional ovens without these features.
---
Top of the Line Air Frying.
Air frying and so much more is possible.
---
Bake, broil and toast bread or bagels. Bake a nice dinner or some cookies without having to turn on your standard oven. Broil some sides while using your standard oven. The toast function and the bagel function cover your toaster needs. You can fit up 6 slices of bread or bagel.
Reheat and Keep Warm options are available as well. Reheat is preset at 300°F (149°C), it can be set between the ranges of 150-450° (66-232°C). Keep Warm will have the oven distribute power to the bottom heating elements only, to keep food warm after cooking. Ideal for serving food hot, as if it just came off of the cooktop.
Dehydrate or proof foods conveniently. Dehydrate what you can and make some healthy homemade snacks. The proof function helps your bread rise faster, an amazing feature when you don't want to turn on the main oven.
---
Features, function, and price make this the best.
For small kitchens who love to deep fry.
---
This appliance can help save some room as an all in one appliance. Not only does it help save room but it is safer than older methods of cooking. Using a chip pan for frying with oil can be dangerous especially when performed while feeling sleepy or drowsy. Air frying requires a lot less oil and the heating elements have sensors that auto-shutoff once finished. Want to learn all about the inner workings of an air fryer without having ads shoved down your eye holes? Check out Wikipedia's air fryer post.
It does air frying in one of the safest ways possible. Instead of frying food in cooking oil it's air fried with conventional heat. Since less cooking oil is used there is less risk of hot cooking oil causing a fire.
It's easy to use despite all the features. All it takes is setting the knobs to operate 1 of 9 available cooking techniques. KitchenAid even goes above and beyond by allowing owners to change the temperature range with each function. Check out a glimpse of how it functions from the official KitchenAid Youtube channel down below.
The Best Air Fryer Oven Rating
Design -

9/10

Function -

9/10

Longevity -

8/10
The Best Air Fryer Oven Rating
Product: Digital Countertop Oven With Air Fry from KitchenAid
Product Description: This seemingly plain design has a lot more than meets the eye. It was a hard choice but it ultimately ended up taking the title as the best air fryer oven in our book due to it's versatility. It is a perfect oven for someone living in a small place that needed an oven and wanted an air fryer. In hotter climates turning on the main oven can make the house uncomfortably hot. Using this countertop oven can help avoid this issue by serving as an alternative. This is ideal for anyone who has ever wanted an air fryer, a toaster, and a dehydrator. It's an all in one user-friendly countertop appliance.
Availability: Check KitchenAid for availability (Link below is an affiliate link that takes you directly to KitchenAid's product page, we earn a commission rate for every sale or through EPC (Earnings Per Click), visit our affiliate disclaimer page for more information regarding affiliate links).