Cooking in the kitchen should always involve having good airflow in order to maintain your air quality. Grease and any kind of undesirable fumes emitted will accumulate quickly without proper air flow especially if it is under a cabinet. In need of an update, why not consider one of the best under the cabinet range hood?
Whether it is as a ductless or ducted a range hood can and should be able to handle your cooking range's output when in use. Both when cooking normally and when cooking something that creates significant fumes and odors.
As is air quality indoors stays stagnant, even with central air. A central air system can improve air quality if it has a mechanical feature bringing outdoor air through the HVAC system. Don't believe me check out the EPA's guide on improving air quality indoors. The right range hood can be the solution to your air quality problems in the kitchen through source control.
---
Finding the Right fit.
It should match your cooking range.
---
Whether your cooking surface is 30, 36, or 40 inch both appliances should complement each other in order to ensure proper ventilation. The hood range should never be smaller than the cooking range. However it can be equal or larger than your cooking range.
A range hood equal or smaller than your cooking surface will fail to capture all of the output being generated. A 40 inch stove paired with a 30 inch range hood would be an inefficient setup. The ideal setup would be a 30 inch stove pairing it with a 36 inch range hood. In general you want at least 6 inches greater than (for the US) or 15.24cm greater than (for the metric system) your cooking range.
Aside from getting the right size you will also need the correct CFM or cubic feet per minute. Electric cooking ranges, gas cooking ranges, and outdoor grilling will require different CFM values. If you want an in depth guide check out Proline Range Hoods they have an in depth guide regarding picking the right CFM and all kinds of other factors to consider.
---
All About Air Circulation.
It should help maintain air quality.
---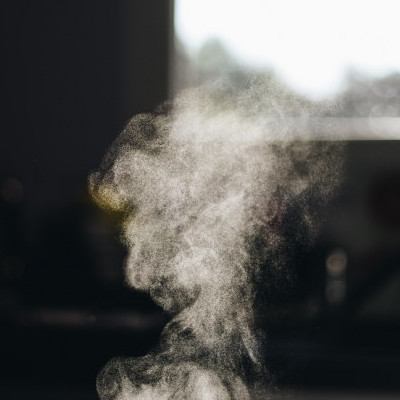 Regardless of brand most range hoods can noticeably move the air noticeably. The real question is whether or not it is being done effectively. How can you tell? We don't need any tools other than what we were born with. Our eyes and nose help indicate whether or not a range hood is working effectively.
Ducted and ductless ranges are meant to get rid of unwanted odors and grease. If you can smell what you are cooking throughout the house when the range hood is on that's a red flag. If you see vapors escaping outside of the cooking canopy that's another indicator that the setup needs revision.
For ducted units grease and unwanted odors will be exhausted toward the outside of a home, most filters for ducted use can be washed. For ductless ranges the air gets filtered by a carbon filter and recirculated back into the kitchen, all carbon filters can not be washed and have to be replaced eventually.
The difference between the two is that:
Exhausting: Air outside of the home rids of grease, odors, heat, and any water vapor.
Filtering: Air and recirculating gets rid of only grease and odors. Any heat and moisture get redirected back into the home.
---
Forte Range Hoods Have It.
They effectively circulate air.
---
Forte Range Hoods are designed and tested with use and care in mind. Most other brands can create air flow. The delivery is what will vary based on the design. Some are loud and noisy. Some have no indication on when to change or clean the filter. Some turn the maintenance process more tedious than it has to be.
Forte keeps the user in mind making all of it's range hoods convertible. Not every range hood they make will fit your needs or preference and they get that. If you are going the ducted route remember to account how your ducts are set up or how you can have it set up. Some units have the exhaust on top of the hood while others have it located on the backside.
The filters for ducted models are stainless steel and can be washed by hand or dishwasher. The carbon filters for ductless use are not washable and need to be replaced for best performance.
Keeping the filters clean is important, otherwise the blower would just be redirecting dirty air instead of effectively purifying or exhausting the air in your kitchen while cooking. It also serves as a preventive measure for fires. Too much grease buildup can block airflow towards the blower and increase the risk of a fire.
---
Time to Update or Remodel?
It's a good time to consider a new range hood.
---
Most range hoods are made to last even in the most deplorable conditions. It's not often one needs a new range hood either from necessity or from desire. Are you planning to remodel your kitchen or do you just want a more modern range hood?
Sometimes a kitchen needs a change. Whatever the reason it certainly is one that merits careful research and consideration. We already covered some points on what range hoods are and how they are similar in some ways but contrast in others.
Why not have one that is the best from easy installation up to your last use. Most under cabinet range hoods are fine so what makes Forte exceptional in the market? It's all in the testing and design.
---
Tested and Designed for The Task.
It's not just functional.
---
Forte focuses on aesthetics and functionality. The end result speaks for itself. They offer high end products and as one reviewer Mitch1955 puts it.

In total there 42 reviews for the product and all are positive with little indication of dissatisfaction. Instead of reading every single I will go over the pros and cons of the product.
---
Pros
Cleaning for everyday use and long term maintenance is as easy as it gets.

Just use a mild detergent (A small amount or Dish Soap with Water) and an abrasion free cleaning tool like a dampened sponge. Clean moving with the satin finish.

Made in Italy through rigorous research and development.

The R&D helped create an end product that offers high end performance with a distinctive design.

Certified and meets safety compliance outside of Italy.

Forte has their appliances tested by Electrical Testing Labs meeting both certification requirements for Canada and U.S.
---
Cons
Not as quiet as higher costing units.

For what it's worth this seems to be the only complaint from customers. Ironically this is the only scenario where it's not sketchy to pay for silence.

Carbon filter is not washable and has to be replaced to maintain best performance.

To date every carbon based filter is non washable and eventually does need to be replaced with a new one. They are inexpensive but create waste with every replacement.

Installation and electrical connection is something to consider.

For exhaust pipes you will need pipes with smooth internal surfaces. It is recommended that they are as short as possible and with few curves. Depending on your setup you might need to get a qualified installer and or electrician involved according to local regulations as stated in the Installation, Operating, Maintenance Instructions.
---
While Forte does not have as big of a presence like other brands their products speak for themselves. Whether or not you want to give them a chance in your kitchen is all up to you.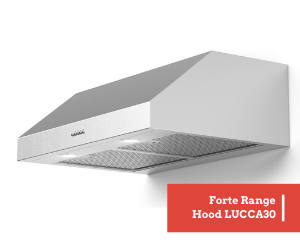 Hopefully this helped narrow down the decision and breakdown the consideration process. If you found this helpful leave a comment below on it helped. If you have any relevant questions or comments drop them below.
Affiliate Disclaimer: Down below is a link to a trustworthy website (appliancesconnection.com) where you can purchase under cabinet Forte range hoods and a wide selection of other kitchen cookware and appliances from trusted brands like Broan. The 30 inch model (pictured above) may not always be available. As an affiliate of Appliances Connection from CJ (Commission Junction) please be aware that we do receive commission from any purchase made on the website if it's visited through our affiliate link or links. We may receive EPC (Earnings Per Click) if Kitchen Cookware and Appliances directs enough traffic past a certain threshold of clicks. Please visit our affiliate disclaimer page for more info.